Jayne Denham's latest single 'Beyond These City Lights' features special guest Shannon Noll. Shannon was recently featured on 'Australian Story' by the ABC.
"We caught up at a festival last year and he asked how my music was going? I told him I was madly writing for a new album. He paused…. and then said he had a song I might like. He grabbed his phone to play me the song and explained that he wrote it for the people in the country and I might be the right artist to record it. As soon as the pre chorus came in I had goose bumps. I instantly loved the song and wanted to record it for this album." says Jayne Denham.
"He [Shannon Noll] told me why he wrote the song... he realised as much as he loves the city and is always grateful for his opportunities, he missed the country. All he wanted to do was go back home to the land."
"For me singing this duet with Shannon is a dream come true and it's an honour to have this song on my album."
'Beyond These City Lights' is the third single from Jayne Denham's new album Renegade which is in stores and online now.
It follows 'Addicted To The Diesel' which went all the way to #1 on the CMR Country Tracks Chart and 'Shelter' which was both a Top #10 Country Single & Music Video.
[video]http://youtu.be/ELKAKNCCgeo[/video]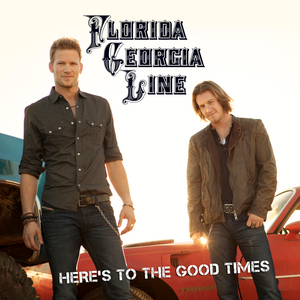 FLORIDA GEORGIA LINE RELEASES DELUXE EDITION OF US PLATINUM DEBUT HERE'S TO THE GOOD TIMES…THIS IS HOW WE ROLL AMA WINNERS SINGLE OF THE YEAR "CRUISE"
Fresh off their American Music Award win for Single of the Year, Florida Georgia Line will release HERE'S TO THE GOOD TIMES…THIS IS HOW WE ROLL, a deluxe edition of their Republic Nashville US Platinum-certified debut, today (11/29).
ABOUT FLORIDA GEORGIA LINE: Florida Georgia Line has skyrocketed since releasing consecutive, multi-week #1 smashes in the US and Canada with the GOLD-certified "Round Here," PLATINUM-certified "Get Your Shine On" and 6X PLATINUM "Cruise." Breaking the record for longest #1 on Billboard's Hot Country Songs Chart, "Cruise" has sold over 6.1 million downloads in the US alone and is the second best-selling Country single ever, according to SoundScan. FGL is the only artist in history to join Brooks & Dunn in having their first three singles hit #1 for multiple weeks each and their latest Top 10-and-rising single, "Stay," is poised to follow in the same success. Amassing international appeal, the duo recently crossed a new career threshold -- tallying more than 10 million tracks sold worldwide from their Republic Nashville debut album.
The inaugural Peninsula Music Festival will take place on Sunday January 12th at the beautiful Morning Star Estate in Mt Eliza, just an hour from Melbourne.
A major project of the Lions Club of Mt Eliza, organised by a sub-committee of volunteers the proceeds raised by the event will benefit Peninsula Health.
The festival will kick off at 10am (with gates at 9am) and wind up just after 5pm. The musical line-up includes:
Ross Wilson and The Peaceniks

Raw Brit

Lachlan Bryan and The Wildes

Coral Lee and The Silver Scream

The Weeping Willows

Aleyce Simmonds

Little Willy and The Hopeless Romantics

Gary Turner (MC)
Ross Wilson And The Peaceniks
Ross Wilson has been twice inducted into the ARIA Hall Of Fame and has a stellar career of more than 45 years in showbiz. Together with his band they will play hits from throughout his career and from their latest album "I Come In Peace".
Raw Brit
Raw Brit brings together the talents of vocalist Mick Pealing (Stars, Spaniards) guitarist Bob Spencer (The Angels, Skyhooks), drummer Peter Maslen (Boom Crash Opera) and bassist Jason Vorherr (Little River Band). Specialising in British rock from the 60 and 70s bands such as Free, Bad Company, Led Zeppelin and Cream fill their set-lists.
Lachlan Bryan And The Wildes
Lachlan Bryan along with Mat Duniam (drums), Shaun Ryan (bass) and Andy Wrigglesworth (guitar) aka The Wildes were recently announced as finalists in the 2014 Country Music Awards Of Australia in the Alternative Country Album Of The Year category for their album "Black Coffee". When the album was released in October it hit #4 on the ARIA Australian Country Albums chart and #12 on the ARIA All-Australian Albums chart.
Peninsula Music Festival
Date: Sunday January 12th | Time: 9am
Venue: Morning Star Estate, Mt Eliza, VIC
Country has never looked or sounded this good! McAlister Kemp's new album Harder To Tame, will be a "game changer" for Australian Country Music.
The album features unapologetically cutting edge mainstream country while maintaining the lyrical values fans have come to love from McAlister Kemp. With a harder rock edge and the influence of Nashville flowing through every track, still they manage to remain quintessentially Australian.
Harder To Tame is produced by Nashville's most sought after emerging producer Jeremy Stover – the producer of the current Justin Moore hit 'Point At You' in the USA.
The first single and the title track was released on August 24 and was #2 on the iTunes charts by that night. It is also currently #1 on the CMC chart, with radio play around the country.
Since the beginning MK have had one hell of a ride. In just under 4 years, McAlister Kemp have established themselves as the premier duo in Australian Country Music… becoming giants (literally) of the genre.
They've topped the ARIA Country Charts, appearing in the ARIA Mainstream Top 20, Winning a Golden Guitar and two fan voted CMC Music Awards and scoring an ARIA nomination for their 2nd album Country Proud.
The Duo have become a major touring act in regional Australia, off the back of their explosive live show, songs that touch on real issues and developed a genuine connection with fans.
Following their appearance at this year's CMC Rocks the Hunter in March the pair caught the attention of visiting headliner John Rich of American duo Big & Rich. So impressed was he with the boys, that just over a month later, while the boys were in Nashville writing and collecting material for the Harder To Tame album, he invited the them to play a special gig at his house. .
Their second trip to Nashville this year not only saw them record the best album of their career to date but just before returning to Australia, new friend's Big and Rich drove them over 4 state lines and invited the MK on stage to sing their anthemic hit Country Proud to a 30,000 strong crowd at the Country Thunder Festival in Wisconsin.
The album will be released on January 17, 2014 with the album launch to be held at Blazes in Tamworth, straight after the Golden Guitar Awards on Saturday January 25 (where the boys are nominated in 3 States).
This is an album not just for country fan, it's for all those who like their music a little rough around the edge. Head to Blazes on Saturday, January 25 to hear the new sound of Australian country music.
Check out the Harder to Tame clip which has been nominated for a Golden Guitar as Video of the Year
[video]http://youtu.be/38wFKsZ-Ip4[/video]
Harder to Tame The Album can be pre ordered on iTunes and fans who do so will get the new track 'To Say I Love You' instantly.
POWERHOUSE VOCALIST JESS HOLLAND RETURNS TO TAMWORTH FOR 2014 FESTIVAL SPECIAL SHOWS TO PREVIEW HER FORTHCOMING 2ND ALBUM. Two years after the release of her debut album, Jess Holland is gearing up to preview tracks from her highly anticipated second long player at the 2014 Tamworth Country Music Festival. After spending most of 2013 penning and recording the new releases, Jess can't wait to get on stage and share the songs with music fans, and what better place to showcase a country album than Tamworth? The first single from the album – Fine Lines – hits radio airwaves at the beginning of December, a perfect prelude to the festival.
"The Tamworth vibe is always electric," says Jess. "I leave on a high after each performance. You always have the opportunity to meet so many new people and have a lot of fun along the way. I'll be playing songs from my debut album as well as a few taste testers from my forthcoming album. I also love to include songs that have really influenced my career – artists such as Johnny Cash, Janis Joplin and Dolly Parton."
Jess Holland's 'ballsy country rock' has kept her busy and on the road for most of 2013. She's also going to be joined by her trio The Hickory Sisters featuring Allison Forbes and Gretta Ziller for one special show. The trio debuted at the 2013 festival and pay homage to great female country stars such as Patsy Cline and Tammy Wynette to name a few.
Jess says she looks forward to starting off her year at Tamworth Country Music Festival every year. She especially looks forward to returning to the venues, which are some of her favourite in Australia to play at. "I love performing at these venues because they are intimate with a fun and relaxed vibe, so you can really involve the audience," she says. "Tamworth is the perfect opportunity to provide my audiences with a little taste tester of the new album. It's always a little nerve wracking playing new material that no one has heard, but I am so proud of these tracks and can't wait to see how they go."
The new single – Fine Lines – is a great introduction to an album which will show a new and more mature side of Jess Holland. The album Whole Lot To Say is due for release in March 2014. The new album release follows up on what has been a massive 2013 for Jess.
"This year has been extremely busy for me." Jess explains "I released a third single, Cigarettes & Whiskey, [a follow up to My Kinda Town and Iddy Biddy Pride] from my debut album and followed this up with a QLD tour". The 2011 Voice of Urban Country Award-winner has spent 2013 doing what every decent musician does – touring and performing. Whether it was big festivals, country races, the local pub or the 'back of Bourke', Jess Holland loves nothing more than taking her music to her fans. Of the back of her singles, Jess left the band in Mudgee and headed off to some of the most remote pubs on the map too. "Small places don't have the same opportunities to hear live music – yet that's where the true country fans live," she says. With this ethos in mind, she'll be continuing to tour to regional areas throughout 2014.
Ensuring she connects with the land, and the 'true country fans', is very important to Jess. "Until recently I was performing part time and working part time as an agronomist, but now I'm a full-time musician," she says. "Actually, it wasn't all that big a change – as an agronomist I spent most of my time on farms, on the land, and it's the land that inspires me as a country musician." Country music is also in her blood. Her grandfather was a founding member of well-known bush outfit The Stringybark Band, so it's no surprise that Jess felt a resonance with music. As a three-year-old, Jess taught herself to play the piano, and by the age of nine she was performing in musical groups in her home town. She has toured through central, western and northern New South Wales in support of the likes of Luke Dickens, Uncle Bobs Jug Band and Adam Kilpatrick. She's also a two-time Toyota Star Maker finalist and has been earning acclaim from fans and critics alike. Earning the title of 2011 Voice of Urban Country was a great stepping-stone forward, the first of many accolades that have befallen this talented musician.
Jess Holland's new single Fine Lines will be released to radio on 6 December 2013. The forthcoming new album Whole Lot To Say is due for release on 28 March 2014.
2014 TAMWORTH COUNTRY MUSIC FESTIVAL DATES
Friday 17th January 2014 | 12pm-3pm
Tudor Hotel [Upstairs Bar], TAMWORTH NSW
Saturday 18th January 2014 | 3.30pm-6.30pm
Tudor Hotel [Back Bar], TAMWORTH NSW
The Hickory Sisters
Sunday 19th January 2014 | 5.30pm-8pm
Tudor Hotel [Front Bar], TAMWORTH NSW
Tuesday 21st January 2014 | 5.30pm-9pm
Tudor Hotel [Front Bar], TAMWORTH NSW
Thursday 23rd January 2014 | 6pm-8pm
Quirindi RSL, QUIRINDI NSW
(02) 6746 1566
Friday 24th January 2014 | 12pm-3pm
Tudor Hotel [Back Bar], TAMWORTH NSW
For more information, please visit www.jessholland.com.au