Honky Tonk Rockers @ Koo Wee Rup Hotel Sunday July 26th Royal Hotel, Station St. Koo Wee Rup 2pm -6pm $10.
Mark D'Rozario & Joe Patterson's hot new country band The Honky Tonk Rockers will be rockin' the Koo Wee Pub from 2pm till 6pm. Take a Sunday drive and check out Melbourne's newest Honky Tonk, easy to find, only pub in town. Do some dancing or sit back and enjoy toe tappin' country favourites, maybe an Elvis tune or two from Joe. Prize for the longest distance travelled, raffles etc. $10 Entry. The Royal Hotel Station St. Koo Wee Rup 5997 1414.
SANDRA HUMPHRIES (Sth. Australia) and her band return to the Pascoe Vale RSL on Friday November 7.
She released her 5th CD "I'm Stronger" at the Tamworth Country Music Festival this year.
Featuring Sandra on vocals and rhythm guitar, Henry Czerwonka on lead guitar, Helen Stewart on bass and vocals and Malcolm Ronay on drums
8.00-11.30 pm. $8 for visitors or $5 for members.
Free tea and coffee plus raffles and a door prize. Meals from 6 pm.
Website: http://www.northwestfm.org/countrymusicguild
The Country Music Guild of Australasia presents the best in country and country rock music
every Friday night at the Pascoe Vale RSL
40 Cumberland Road Pascoe Vale, Victoria (Cnr of Cumberland Rd and O'Hea St).
What's almost three kilometres long, has hundreds of wheels and boasts thousands of horsepower? It's the annual Alexandra Truck, Ute and Rod Show. The 2013 event will again be staged on the Sunday of the Queens Birthday Weekend (9 June) in Alexandra in Victoria's Upper Goulburn region.

There's plenty to see and do for the whole family at this classic event. Live music, children's amusements, trade displays, major woodchop tournament and a huge auction.

The 2012 event proved to be the largest show ever held, with an estimated 15,000 people making their way to Alexandra. 2013 marks the seventeenth annual event and is destined to be as good as previous years and the good news is that admission is free, making it a great family day out.

The success of the show in recent years has enabled the Truck Show to donate over $100,000 to support many community organisations. This year the Truck Show will support the extension project for the Kellock Lodge aged care facility in Alexandra.

You will find all the latest, and not so latest, road-going rigs lined up in the town's main streets - giant interstate hauler's, timber trucks, logging and contractor equipment, plus a great showing of historic trucks - all of them the pride and joy of their dedicated owners. Many vehicles are specially prepared for show and shine and displayed with pride by their owners.

Adding to the day is an incredible array of utes that will line up in Alexandra's main street. The Ute section contributes to the huge following of these unique cars throughout the country by offering one of the largest ute displays on the Victorian circuit.

Plus there's a day full of great music entertainment on the main stage.

The Alexandra Truck & Ute Show event attracts thousands of visitors and is strongly supported by the local community and businesses. Thanks to our sponsors in particular, the Truck Show is able to continue to support the local community as it has for many years by distributing funds to a number of local organisations. It is truly something by the community for the community. Alexandra Truck n Ute Show

With songs from America's living legend George Strait, Australia's King of Country Slim Dusty and a host of original songs, Rene Diaz presents his new show "STRAIT, DUSTY & ME " at the Dandenong Club for one night only on Friday 15th February, 2013.

Rene has several country music albums and a swag of Victorian and national awards for song writing and entertaining so you will not be disappointed. Come along and listen to great music based on classic hits and original tunes. The evening will engage country music and rock n roll fans alike with a dance floor big enough for everyone.

Mention ITSCOUNTRY at the door and save $5 on the price of admission. ($10 instead of $15) For an extra $15 you can upgrade to include a three course meal.

The Dandenong Club also has delicious food and drinks available at club prices.

1579 Heatherton Road

Dandenong, VIC

03 9792 1963

After about 3 years THE BONA FIDE TRAVELLERS get there handsome mugs back on Nu Country TV. The song is our funky Tony-Joe White influenced take on Merle Haggard's "Ramblin' Fever". This Saturday 10:30pm C31.

BONA FIDE TRAVELLERS - NOT HAGGARD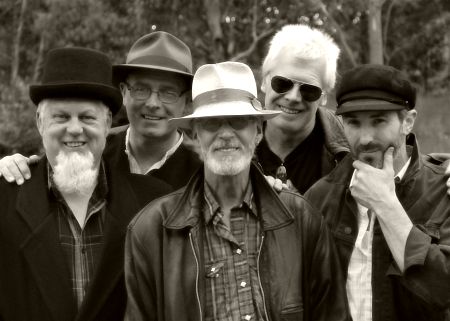 Suburban saddletramps The Bona Fide Travellers supported Nu Country when they opened for U.S. comedienne, songwriter and producer Kacey Jones and Oklahoma star Becky Hobbs at The Noise Bar in Brunswick.

This time, with more than a little help from C 31 host and producer Russ Kellett, they filmed their new video at Tynong North.

Singer Snowy Townsend tries to hitch ride on a Gippsland lost highway near the killing fields 31 years ago for elderly women.

The bodies of four of six women murdered by a serial killer were found at Tynong North in December of 1980.

But this is a humorous video as fellow band members cruise on their cut of Merle Haggard classic Ramblin' Fever.

The lads honoured the septuagenarian former California convict country icon with their highway homage.

CLICK HERE for a Bona Fide Travellers story in the Diary on November 22, 2007.