Announcement
It is with sadness we announce, due to circumstances beyond our control, we can no longer run and maintain
the ItsCountry.com.au website. Times and software requirements have changed and we are unable
to provide the upkeep that is regularly needed to keep it operating. Thank you so much
to everyone that has used and supported ItsCountry since its inception in 2010.
ItsCountry Administration 26/12/2018
ItsCountry - Country Music Events
WHEN:
Friday 28 September 2018 -
WHERE:
Mildura CM Festival

Mildura
Vic
WEBSITE:
COST:
CONTACT:
TAGS:
---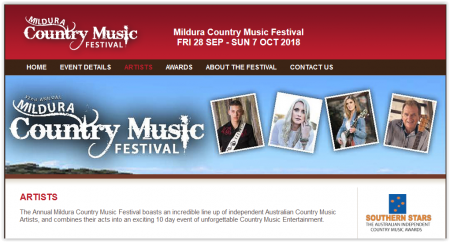 ARTIST LINEUP
| | | |
| --- | --- | --- |
| ALBY POOL | GED & TRUDY HINTZ | PETE SMITH |
| ALEYCE SIMMONDS | GINA TIMMS | REG POOLE OAM |
| ALLAN CASWELL | GLENN JONES | ROB BREESE |
| ALY COOK | GRAEME HUGO | RODNEY VINCENT |
| AMBER JOY POULTON | JEFF BROWN | SHARON BENJAMIN |
| ANGUS GILL | JOHANNA HEMARA | SHOW PONY EXPRESS |
| ANITA REE | JOHN KRSULJA | STEPHEN R CHENEY |
| BEC HANCE | JOHN LECNER | STEVE PASSFIELD |
| BRYEN WILLEMS | JOHN O'DEA | STEVE SPARROW |
| CAMERON MASON | JUSTIN STANDLEY | TAYLOR PFEIFFER |
| CHOOKA WILLIAMS | KATE HINDLE | TERRY GORDON |
| CONNIE KIS ANDERSEN | KIARA RODRIGUES | THE LONG & SHORT OF IT |
| COUNTRY HORIZON | KIM RITCHIE | WARREN MAHONEY |
| DANI YOUNG | LANCE BIRRELL | |
| DAVE PRIOR | LEE FORSTER | |
| DIANNE LINDSAY | MICHAELA JENKE | |
| DON COSTA | MICHELLE RUSSELL | |
| DWAYNE ELIX | NEIL McARTHUR | |
| EMMA JENE | OWEN BLUNDELL | |
| EVAN PLATSCHINDA | PAUL GIBBS | |
When Australian country music fans talk of the festival "biggies", the Mildura Country Music Festival rates a mention alongside the Tamworth Country Music Festival and the Gympie Muster as one of the big three.

The major difference between the other two and the annual Mildura Country Music Festival is that Mildura has Australia's biggest showcase of Independent entertainers.

What that means is a seemingly unending cast of highly talented professional country music artists who aren't signed to major record label deals.

The Independent factor gives Mildura a very different complexion, and it's a successful formula that has worked admirably over the past thirty years. In 2018, more than 50 individual artists and groups will entertain over the 10-day period to celebrate the festival's 32nd year, and the roster comprises many award winners. But then, when you consider that the Independent artists make up probably 95 percent of performers in the country music industry, and the calibre and achievements of the artists is well documented, it strikes home that there is a huge well of talent out there.

A large proportion of the artists performing at Mildura in the past have highly successful recording and touring careers and big fan bases throughout Australia. With names like Johanna Hemara, Rodney Vincent, Kiara Rodrigues, Reg Poole, Tom Maxwell, Owen Blundell, Terry Gordon, Justin Standley, Aleyce Simmonds and Allan Caswell, you can gather a truckload of chart hits, popular albums, and recording and songwriting awards.

What Mildura has steadily developed is something that draws thousands of fans on an annual pilgrimage that would make many non-music lovers scratch their heads in bewilderment. Often driving thousands of kilometres, the fans converge on this beautiful destination on the banks of the legendary Murray River for ten days of virtually non-stop country music, and the Mildura Festival has steadily built is own culture through the years. It's become the Mecca for the "empty-nesters" - the mature age couples whose kids have flown the coop, the ones who have the time to set out for two or three weeks holiday, and most importantly, those who have a deep love of the music. The wonderful part about Mildura in September is that not only is it country music heaven, it's also a great holiday destination.

The fans love the freedom of Mildura, and the value-added factor. For a start, virtually all the musical entertainment is free, and the majority of the shows are multi-artist concerts. If you were paying, the value is certainly there, but in this free environment, everything's a bonus.

The venues, 25 in all, spread from the City Mall providing all-day entertainment at central city venues in Mildura to outlying locations like Wentworth, Merbein, Red Cliffs, Coomealla, Buronga and Gol Gol. Every taste is catered for with Line Dancing, Country Rock, Bluegrass, Bush Ballads and daily Walk Ups for those not on the program.

The jewel in the crown for the past twenty one years has been the live concert and radio presentation of the Southern Stars - The Australian Independent Country Music Awards, that recognise the achievements of the Independent recording artists during the past year, and this year's entries are sure to again endorse the status of the event. Many previous finalist and winners like Felicity Urquhart, Darren Coggan, Travis Sinclair, Drew McAlister and Carter & Carter have also won Golden Guitars,with some notable successes like Allan Caswell, Brendon Walmsley, James Blundell, Luke O'Shea and Dianna Corcoran being multiple Golden Guitars winners.

The culture of Mildura has built up on a real family factor, and that applies equally to the artists as well as the fans. There is a noticeable lack of urgency and panic during the festival, because if you miss a planned event on one day, you can usually catch up later in the week. The excitement factor is still there, but there's an element of control built in - and that's why the enjoyment factor is just as evident on day ten as the start. And the reason the artists enjoy it so much is that it's ten days of music, friendship and fun. Mildura is really a level playing field - no star billing, no support act tag, and certainly no room for egos.

For the fans it looks easy, but the organisation of an event the size and duration of the Mildura Festival encompasses a full 12 months of planning, and an awesome array of tasks from booking, accommodating and placing the artists, arranging venue rosters, working with a multitude of local suppliers and with strong support from sponsors, traders, Mildura Rural City Council, Wentworth Shire Council, State Government and Visit Victoria.

Underpinning the festival is Festival Radio 91.5 FM which broadcasts a 24 hours per day country music format during the Mildura festival, focussing on the music of artists appearing at the Festival.

So why do they (the organisers) drive themselves into the ground each year to make the Mildura Festival such a successful music and tourism event? Simple - they do it for the love of the music, they do it for the Independent Country Music artists, they do it for Mildura, and they do it for the fans. It's a terrific combination that has created one of Australia's most unique musical events.
---